Golden Oldie
Golden Oldie
Legend of Mir Arcadia
Based on the 10 year development of Project69 and using the latest Heroes files, Arcadia was launched in spring 2013 for open beta.. Arcadia has come a long way since then.
Arcadia is a medium rate server with a level cap currently set to 115. The majority of players are level 90+ which is relatively easy to achieve, especially with the large, helpful community and generous group-share experience. Some of the key features are shown in the screenshots below, including:
✓ Player Alchemy
✓ Item Naming
✓ Item Stats
✓ Item Salvaging
✓ Item Crafting
✓ Item Socketing
✓ New GUI features
✓ New Boss AI
✓ New Skills
✓ and tons of other features
But what is best? There is plenty more to come.. and you don't have to worry that Arcadia will be going offline for years to come
Site:
http://www.mirarcadia.com/
Download:
http://www.mirarcadia.com/download-mir-arcadia/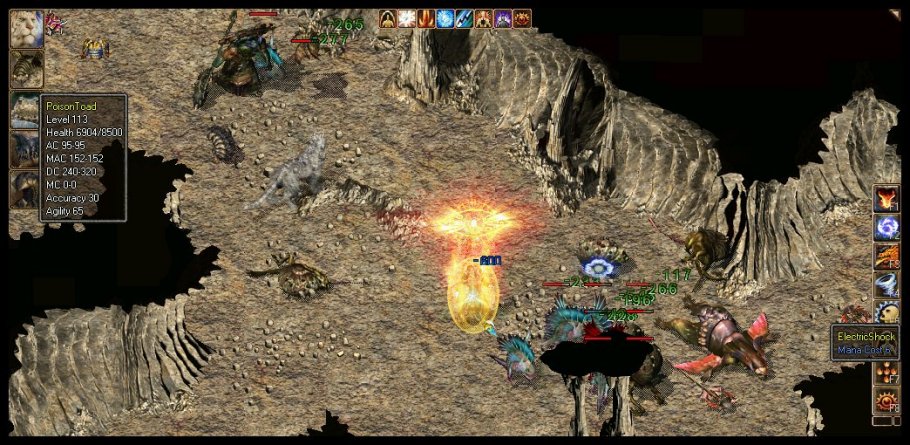 Pet icons (top left) are a great way to keep an eye on your pets abilities and decide what pets are best for what situation. Skill icons (right) remind you where you have placed your skills. With such a skill-rich game there are three skill racks using Function keys - alone, with Ctrl, with Shift - meaning your favourite 24 skills are at hand.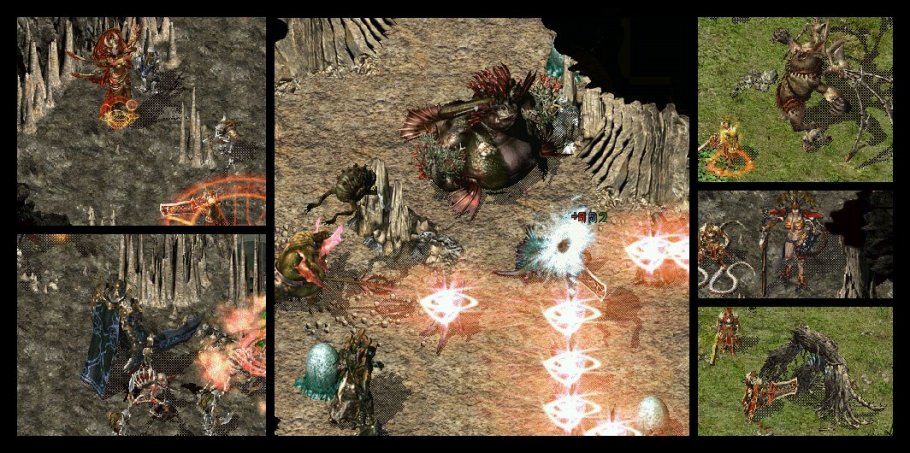 These six bosses were added as part of the Summer update, each with challenging AI. More will be announced with the Winter update, including the arrival of the first permanent super-boss.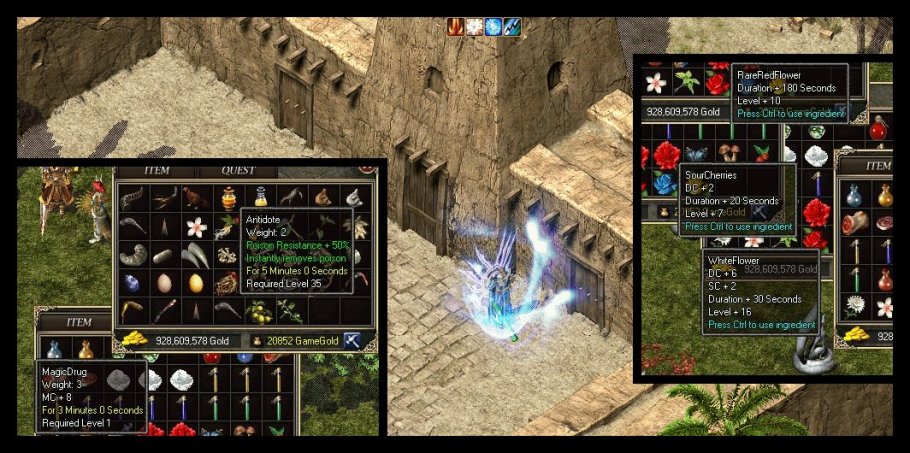 Player Alchemy lets players collect ingredients and mix their own potions, creating both a great economy and interesting gameplay. Buff and curse icons (top centre) tell you how much and for how long your abilities are modified from potions, skills and monster attacks.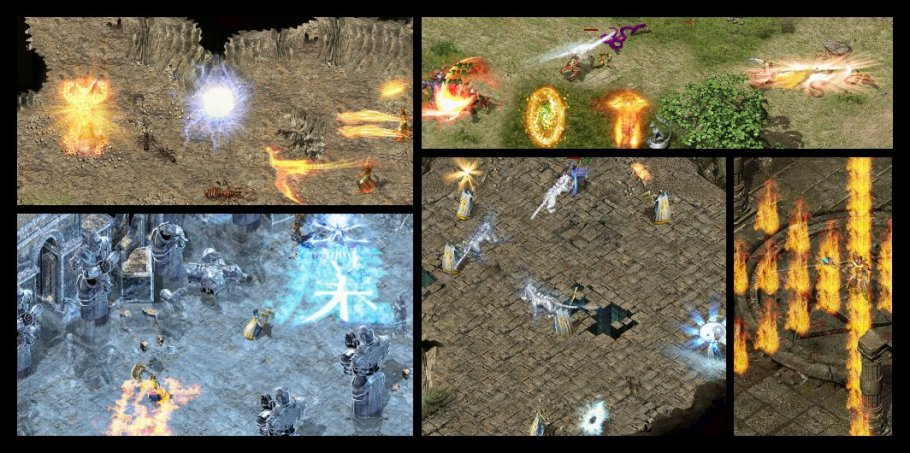 There are plenty of skills of each player to have fun with, and you certainly do not need them all to enjoy the game which is more about choice and less about following the same path as everyone else. Thirty-two new skills will be announced as part of the Winter Update for players level 100 and over.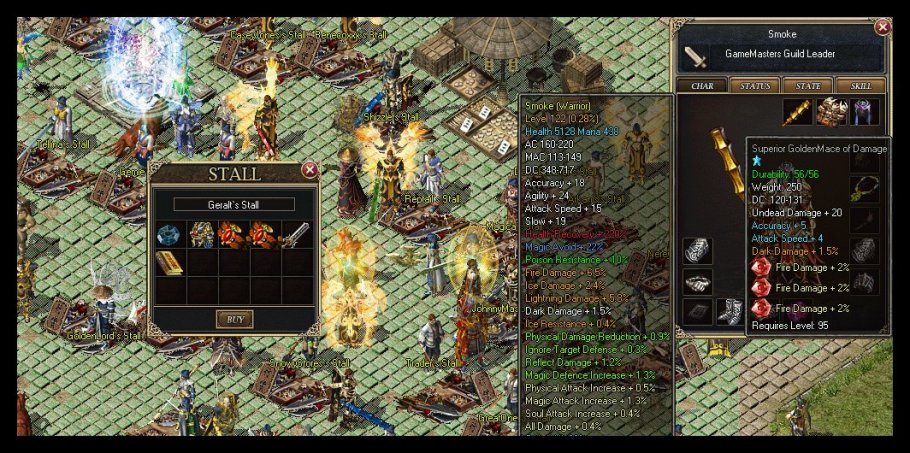 There are over 15 new sub-stat groups including elements which affect skills and spells accordingly. Half of item drops have these magical attributes already added and can be used with the traditional Gem and Orb system. The item stats dictate the prefix and suffix of the item making each interesting and unique - stalls offer a great way to sell those items that you do not want.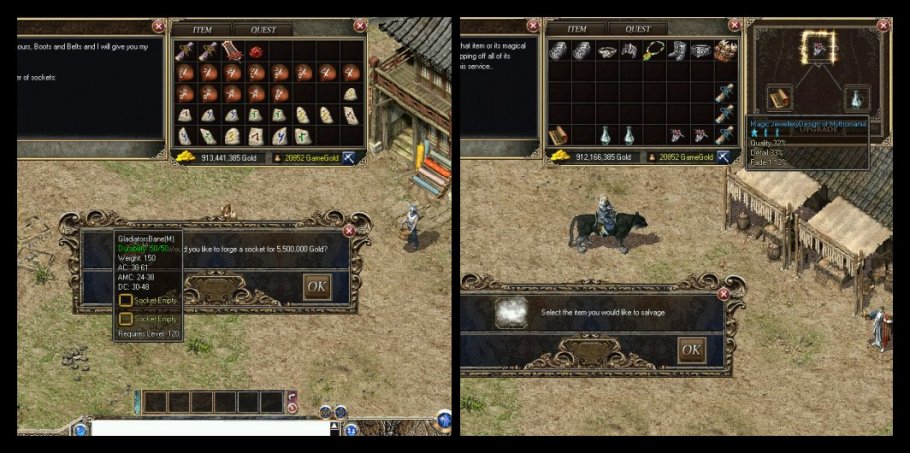 Salvaging and upgrading allows you to destroy any item you no longer want and then improve another item and imbue it with magical properties. There are also over 50 socketing items such as runes and gemstones that can be added into items to immediately improve them with magical attributes.

✓ Complete list of all available skills
✓ Skill level and experience
✓ Skill damage to normal and undead based on current skill level
✓ Skill damage to normal and undead for next skill level
✓ Skill damage calculated based on all current player stats (DC, MC, SC, Elements, % bonuses)
✓ Mana consumption for current and next skill level
✓ Skill description linked to skill books
✓ Primary and secondary magic damage element displayed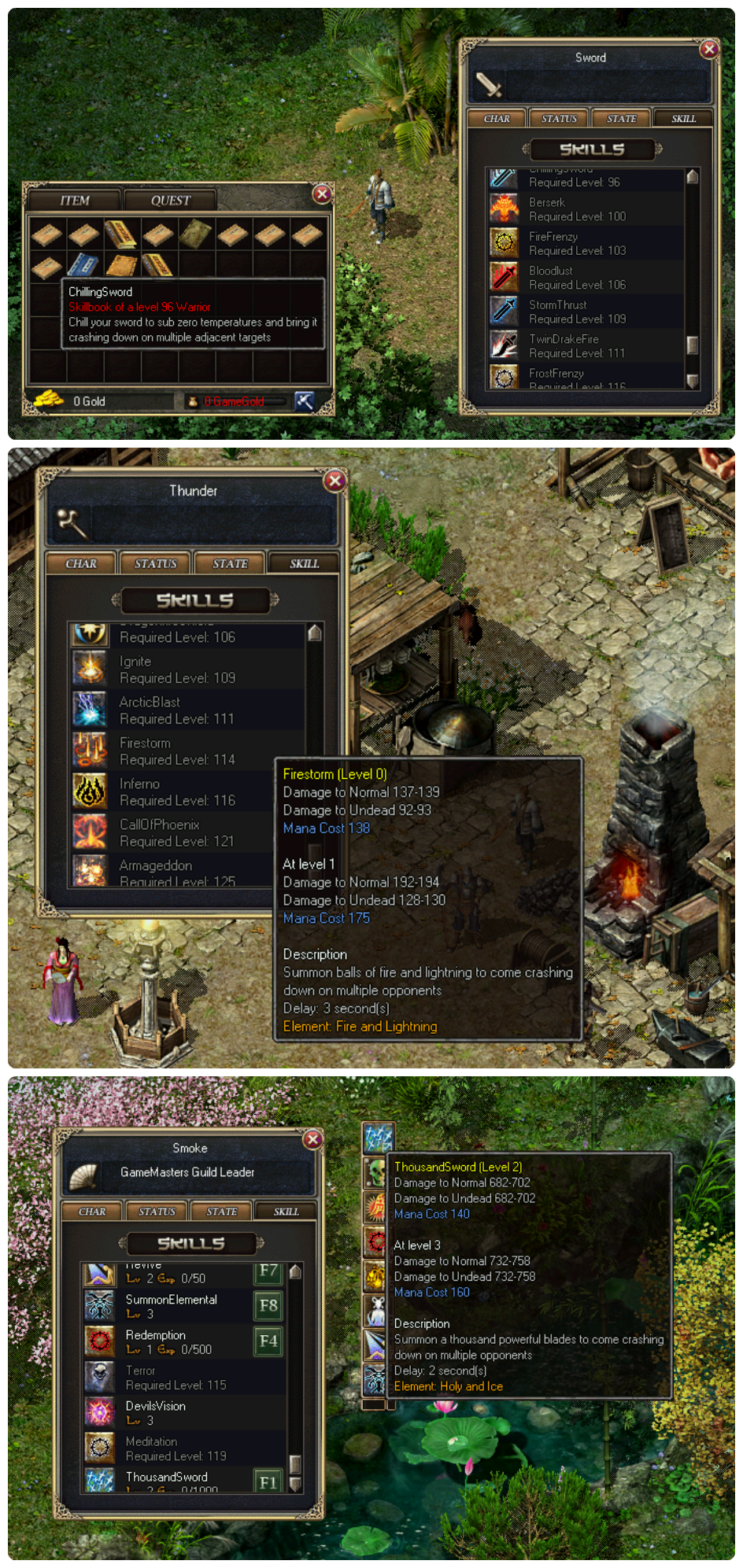 Regional Drops have been added, in the next update the following regions/dungeons will have much more thorough drop charts in place. Each monster adopts the drop tables of its regional "boss" meaning (almost) anything the boss drops can be dropped by normal monsters and demons.

✓ Spider Cavern
✓ Middle Earth
✓ Serpent Tomb
✓ Ant Cave
✓ Prajna Temple
✓ Terror Temple
✓ Insect Cave
✓ Ice Temple
✓ Black Dragon Dungeon
✓ Fox Path
✓ Ground Mover
✓ Past Bichon
✓ Svaltus Cave
✓ Zuma Dungeon
✓ Stone Temple
✓ Mutant Mines
✓ Holy Palace
✓ Valhalla
✓ Hercules' Palace
✓ Forseti's Temple
✓ Temple of Thunder
✓ Dark Wood
✓ Cisthene Cave
✓ Halls of Agony
✓ Desolate Chamber
✓ Ikus Lair
✓ Savage Wooma Temple
✓ Old Tomb
✓ Crystalline Passage
✓ Temple Of Ancients
✓ Naga Ruins
✓ Naga Valley
✓ Desert Mine
✓ Desert City

Last edited: