✴
Classes
:
♦ Warrior, ♦ Wizard, ♦ Taoist, ♦ Assassin


✴
Caves
:
♦ HuntingCave: Caves that can be cleared by 1 or 2 players
♦ GroupCave: Caves that need 4-5 players at least to hunt thier boss
♦ FightArea: 1 Floor contains a boss which designed for big fights
✴
Item Upgrade
:
♦ Item stats can be increased by combine gems,orbs with your item
♦ Gems has chance to break your item
♦ Orbs can be crafted from gems
✴
Pets
:
♦ They are designed to take damage enemies based on thier master power
✴
Conquest Wall
:
♦ SabukWall will be our main fight zone
♦ Reward: SabukTrophy expire 24 hour
♦ Special name color for owners of the wall
✴
Socketing
:
♦ Items can have up to 4 slots
♦ Runes are used to be placed into the item slots to increase the item power
♦ We are having two kind of runes, defence and power
✴
NewbieGuild:
♦ Join the newbieguild to chat with others till you hit level 80


✴
Rebirth
:
♦ Rebirth is not an option but you will be forced to rebirth once you reach the level cap: 150
♦ Rebirth is only once per cap increase
♦ Rewards are: RebirthSpell, RebirthTrophy, ItemDropRate 10%
✴
Awakening
:
♦ Awakening max level: 16
♦ Awakening stats are improving with better quality on items
♦ You can not awakening None grade items
✴ New Spells:
♦ Spells only obtained once hitting the cap and became rebirth player.
✴
Crafting
:
♦ This option mainly for geeks when they are killing alot of bosses with no luck to find nice item
♦ There are many drops you have to pick up during your hunt that has the ability to merge and creats nice item
♦ This item can be (Equipment Item, Skill, Potion, Gem, Orb, Awakening)
✴
Quests:
♦ There are x400 of quests ingame
♦ General: Rewards are mainly experience
♦ Daily: Rewards are mainly gold
♦ Story: Rewards are special items
♦ Pets: Rewards are special pets for period of time

✴
Monster AI:
♦ New monster with new ais have been added to server
♦ Alot of known bosses ai such as Khazard, EvilCentipede... have been changed

✴
TwinDrakeBlade - DoubleSlash:
♦ Animation speed increased
✴
Awakening Max Level = 15:
♦ Removed each level values from displaying on the items and it only displaying the total
✴
New Item Set:
♦ Special item set works for all classes


♦ I have added some special items drop from mobs but rare to find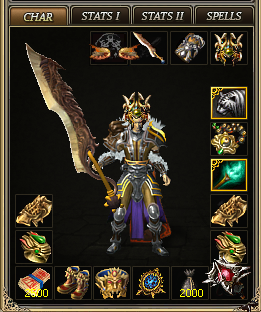 ✴
Spells Enhancement:
♦ PetEnhancer: Increases pet damage, value added is taken from master (SC)
♦ Healing: Heals the nearest friend in 2 space range if you target a monster by wrong.
♦ Purification: Puri the nearest friend in 1 space range if you target a monster by wrong.
♦ MassHealing: Area increased from 1x1 to 2x2
✴
QualityOrb:
♦ Increases item grade, power
♦ Gets harder every item upgrade
✴
ItemGlow:
♦ Every grade has its own glow
✴
Bosses Scroll:
They are dropping from every mob / boss ingame, you cannot spawn bosses in bichonwall but any where else.
✴
Epic Monster:
They are spawning in everycave ingame this mob has better chance to drop rare item with nice amount of gold.
✴
Gameshop
:
Gameshop will be mounts, pads, exppots, buff potions , torchs (Simple like any other gameshop)
But we are offering our players very cheap prices for ex. exppot 2hour is 75gg only - mounts are 500gg expire never, pads are 400gg expire never, dc potion is 24h expire costs only 100gg.

Here are you gamegold prices.
10GBP = 1000 GameGold
20GBP = 2100 GameGold
30GBP = 3200 GameGold
40GBP = 4500 GameGold
50GBP = 6000 GameGold
(items will be available for gold/gamegold)
Last edited: